I tell you, this is a must-watched movie for this early 2011. I said, 'go watch it, asap' for this. Ryan Gosling and Michelle Williams just did a really good act in this movie. I like Ryan Gosling far away since he played as Noah on The Notebook. He's adorable, adorable and adorable. What can i say more about him? And actually i don't (really) like Michelle Williams since she played as Jen Lindley on Dawson's Creek, well i'm not a Dawson's freak anyway, or when i watched her in Broke back Mountain, which is she did it with her own boyfriend. But as i'm watching this movie, i think i just found my new one role actress.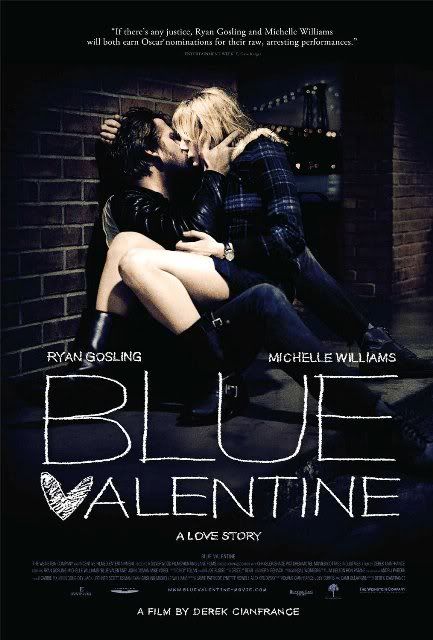 This is a recommended movie for you guys who wants to build a future family really soon. A reflection from what 'people really do change' means. It was about a growing up feelings and characters of their own personalities. Even there was a 18+ adult scenes, but i guess it doesn't really affected with the way the story goes, right?
Dean (Ryan Gosling) as a drunk, independent, soft-hearted man with his strong character but also have a sweet sense to a woman that he really felt in love with, Cindy (Michelle Williams). Cindy, a well-educated hard-worker girl who has a relationship with boyfriend, Baby Ontario, and in that time she has a bad relationship which made Cindy got pregnant. And by the time she got pregnant she met a lovely attractive boy with all his romance and he did really well to make Cindy finally falling for him. One scene that i love from this movie is when Cindy doing a tap dance with Dean played his guitar, sing along a song 'You Always Hurt The One You Love' and end it up with a hi-five. That's what i called sweet. Also when Cindy planned to had her baby aborted, and Dean with gently waiting for her until she finally decided to not throwing her baby away and keep it. And she doesn't have to wait for a long time until Dean said if he wanted to marry her. With simply yet romantic wedding, the two love bird is getting married and live their life happily, ever after? Well i guess not. Why? TADAAA this is where the story begin.
This is a flashback stories combine with present stories which is have a different side on each incident. Comparing what they did when they were young, when they live happy, free, deeply in love each other with what they faced in the present is just different. Cindy who wants to add some 'essential' to their marriage life and Dean who's doing a thing that have no improvement since they met for the first time became one of the biggest factor for their separation (in the end). Also a complicated love story based on a true feelings is represent in this movie. Wait, did i just said they finally getting separated? Opsssy! Sorry for teling you what was happened in the end! Haha gatel nih pengen ceritain. Haha :D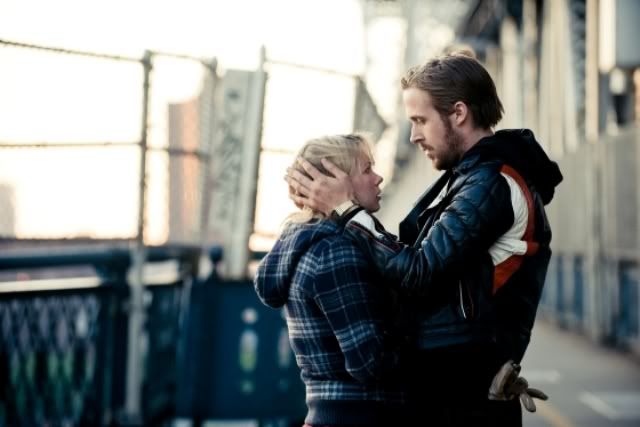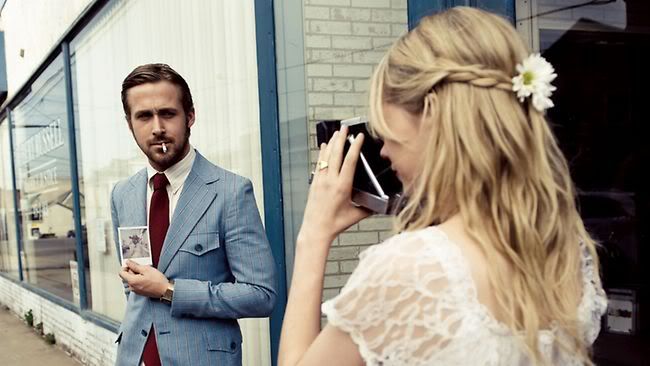 Well, the drama flew slowly but sure and it has a lot of message to everyone who's watching it minute by minute. Talking about a 'feeling' that can change in time which we couldn't ever expected. About a love, different love, which obviously can NOT beat everything. About how we can make a relationship stays like the first time we start it. About the disappointment when we are going to expect 'more' from someone we love, but he/she can not make it real happened.
So, if you love someone, does your love would be the only one factor that could be a strong based for your long-time relationship? Is this just love that we all need? We can easily hope for something that we can clearly describe it perfectly on our imagination. But in a real fact? Does it really happen soon or not? That's a big question on every wish that we spelled, right?
PS : Ryan Gosling as always is a truly gentle man plus plus plus the most (like i said in the beginning) adorable man in this world. It sounds lebay sih, but for me he really is! As an evidence, let's see the trailer!