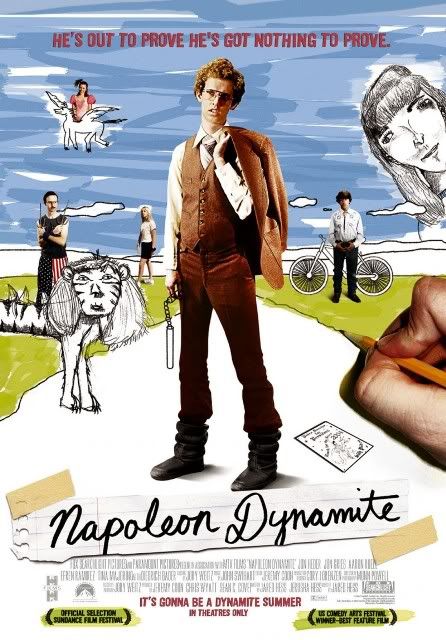 And The Coolest Opening Title Goes To... Napoleon Dynamite! A 2004 American comedy film.
Ah I will always love to see the opening titles from this movie. Suka banget! Idenya benerbener kreatif, gue baru nonton film yang openingnya kaya gini. Mungkin ada film yang pembukanya sejenis ini, gue ga tau aja kali yah. But believe it or not, i never watch the movie until it says 'the end'. haha Just the opening then i repeat it all over again. I don't really like the story or maybe because i never try to really want to watch it until the end. hehe
And to be honest i don't know what this movie is all about. My Boyf and my Brother said it was a really good movie, and when they watched it, it makes them laughing so hard. Tapi kok kalo gue nonton, pas awal aja udah mikir 'film apaan sih nih?' krikkrik haha Makanya ga pernah gue lanjutin sampe abis nih film. Benerbener cuma pembuka filmnya aja. hehe Actually what makes it so perfect is how the music director used The White Stripes (Where're Going To Be Friends) song on it. Perfetto! You want to feel it? Just watch and listen to this, enjoy!

haha i just realized, randomly i posted this post right after i think about the theme song. Then directly google it and tadaaa this post is done. hehe like usual, i don't have a lot to do in my desk :D

*image source here | video source here