HAPPY BIRTHDAY EGI! Ha! Now your an old man! Especially with your office outfit + beard + mustache. hehe Akhirnya kemarin ketemu ni orang juga setelah sekian ribu taun (lebay) ga ketemu. Pas banget sehari sebelumnya dia ultah. Dan juga PAS banget buat minta todongan traktiran, tapi dikarenakan satu dan lain hal jadi ga jadi deeeehhhhhh. Selain emang pasukan Gombresnya sedikit (bukan sedikit sih tapi emang cuma berdua). But next time pasti kita todong! haha Perayaan ultah Egi kali ini beda. Bukan karena disengaja kita ngerayain di mobil pas dia lagi nyetir, tapi emang waktu dan kondisi yang memaksa, jadi terjadilah tiup lilin sambil nyetir. Tapi gapapa, kan jadi seru. Meski cuma berdua sama Ane nyanyinya *krik* hehe Tapi tetep bikin Egi terharu hampir menitikan air mata tapi boong. haha Ah gw tau gi, lo sebenernya mau nangis tapi gengsi gitu kan lo. haha Ya enjoy your cake deh ya, Gi. Have a blast in your 23yearsold life. I wish you nothing but the BEST! Happy getting older, friend! HUG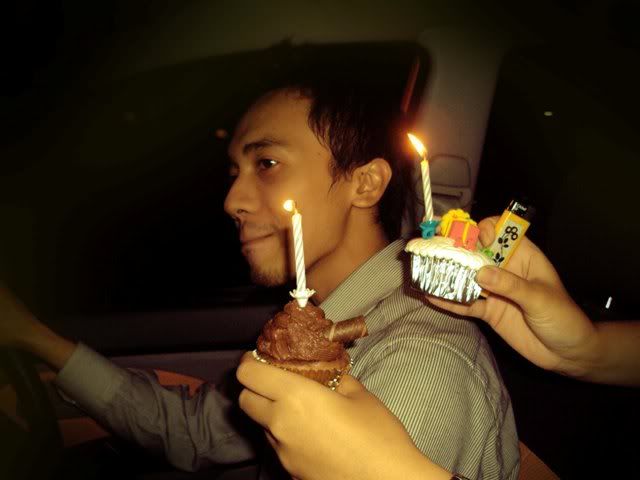 Egi's Birthday from sittastary on Vimeo.
Meski cuma bertiga dan cuma sebentar makin bikin semakin kangen deh. Mudahmudahan pertemuan selanjutnya pasukannya banyak. Biasanya juga banyak sih, tapi pas gue ikut eh malah cuma bertiga doang. haha Pitty me. But its ok. We'll see again next time, friends! Im happy that night. Thank you.
NB: We're gonna have another birthday celebration with the Gombres-er full team as soon as possible, HARUS!
*all images taken from my personal doc
|
Cupcakes bought from Cake a Wish